How to put motivation and leadership into one practical guide? I gave this speech on PMI Kyiv Chapter even in 2016. At last, I found time and inspiration to put it all into a video master class for you.
Get "Tribes: We need you to lead us" by Seth Godin
Read more on motivation in Project Management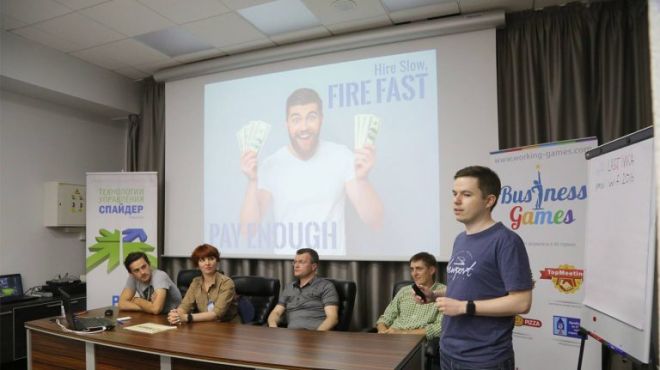 Transcript
Do you understand that motivation and leadership is in fact manipulation? If you can accept it, leading people will be simple for you. If you don't, stay with me and I'll show you why it is true.
You will also learn about the most critical aspects of motivation and leadership. You will need them layered one upon another to build a strong project team.
I got materials for this masterclass from the experiments I conducted on human beings. Everything was neat. Nevertheless, I did it purposefully.
I worked on a project with one client. It was clear that we will be doing a lot of similar and routine tasks for several years. That's why I thought about long-term motivation from the start.
So, I conducted different experiments to see what's working and what's not. Everything here, I tested in a real project environment.
Let's begin.
I believe you saw this pyramid already. To simplify the approach I'll show you now, I based it on a representation of the Maslow's hierarchy of needs.
But I inverted it.
In it, I describe the required conditions you, as a project manager or a leader, must create and support. Just by following these recommendations you can boost or correct the motivation in your team.
I will tell you about elements on each level.
I will also provide you the slide decks and mentioned resources after the video, so please focus on the material of the presentation.
Nowadays there is no need to hunt or harvest food, not need to fight with weather and environment. So, unless you work in a country with severe poverty level why even bother about physiology needs.
OK, then, just close the toilet in your office for a few days. Or remove the drinking water. It will become apparent in no time at all.
Here is one key takeaway here. Before you start any serious actions to motivate people, make sure their physiological needs are fulfilled.
Otherwise, you will be wasting your time.
By the way, a good sleep is also a physiological need. So, keep in mind sleep-deprived team members who have babies at home, who overtime a lot, who has an active nightlife. All of these will undermine your efforts to motivate.
OK, safety and security. You might have noticed already that predators are no longer hunting people on the streets. Government tries to protect us. The Police are everywhere.
So, safety and security have changed over time.
Nowadays, safety and security are measured by financial and social stability. It is a confidence in future.
Therefore, employees should get enough salary. Moreover, it should be continuously reviewed as the person grows. In addition to that, there should be a transparent correlation between efforts and rewards.
You might not have authority to negotiate salary, yet you can influence your superiors. So, it should not be an excuse for you.
The other side of the medal is firing people from the company. You should never threaten to lay off someone. It never motivates. Also, do not allow any gossips about firing someone.
Nevertheless, safety and security is the foundation of all the motivation. And it is fragile.
I had an unpleasant opportunity to lead a project during raging revolution just a few kilometers from the office. Then, the war on the East of our country.
I can tell for sure that financial and social security breaks in a second. The best you can do is to help your people to overcome fears, give them emotional support, and distract them from newsfeeds.
So, don't take it for granted.
A path to love, belonging, and socialization is long and challenging.
Why?
There are no tools or techniques to work with many persons at once. You need to build relationships with each person individually.
But there is one trick that I will teach you in just a minute.
If you want a person to feel like a part of a team, where he or she feels comfortable, never use your title. Ever. Even when you meet with a newcomer for the first time. Just rephrase it to something else.
People quickly understand when someone doesn't like or value them. Or at least they can force themselves to believe so. That is why it is so vital to genuinely value people.
How can you do that?
Here is a practical approach:
Learn a person a bit.
Find one thing that you really like in this person.
Remind yourself of this little aspect every time you need to interact with him or her.
Look for other aspects of the person that are more aligned with your values.
Then, repeat, repeat and repeat the process.
This way you will find and accumulate enough to genuinely value and like a person. Just like that.
Now let's talk about that mass motivational trick I mentioned.
Credit for this idea goes to Seth Godin. I just tried to implement his insights in a project environment.
You see people want to be a part of a tribe. It is encoded in our brain throughout thousands of years. In all times people gather into the groups with a strong leader and common interests.
Just look around, tribes are everywhere. There are tribes of football fans. There are professional tribes. There is a tribe of the policemen. There are tribes of the Apple gadgets fans. Game of Throne fans. You name it.
And here is the deal:
A group of people will form a tribe sooner or later. So, why not to take the opportunity and create a tribe aligned with the project or company's goals?
Within a tribe, it is much easier to form personal standards, cultivate responsibility, and lead by example.
Here is a case study on forming a Tribe.
I had a team. There were several highly experienced team members. It was a point where they either get really bored and demotivated. Or they will start looking for a new challenge.
So, I decided to form a tribe. To tell you the truth, I did not succeed from the first try. I tested off-work activities and hobbies first, like, paintball, board games, soccer. Nothing lasted long enough.
So, I decided to try something more intellectually appealing. By that time I was already giving lectures on Project Management. So, I chose two persons from the team. I told them different stories about my experience as a lecturer, how cool, funny and rewarding it is to teach someone.
To cut the long story short, first, these two guys started sharing knowledge in Quality Assurance and Software Development with other teams. Then, several other team members joined with their own ideas. In the end, they became companywide go-to experts on the topics they teach.
Should I say how they felt about it?
If you want to learn more about Tribes, check out Seth Godin's book: "Tribes: We need you to lead us."
Now, last but not least on this level. You need to protect your people from politics. It relates mostly to internal quarrels. If you position yourself as a leader in your company, you will get into conflicts from time to time. So, don't involve your team members into it.
And I would suggest you to make a ground rule in the team not to dispute on all the political topics at work.
The pitfall of this level is that it is very comfortable and friendly here. Majority of your team members will stay here forever. They will not be really interested in achieving greater goals.
You will want to stay here as well. You worked hard to create a friendly and productive environment. And just to be clear. It is not about days or weeks of work to really get here. It is months or even years.
So, why would you need more?
Well, in many industries like Information Technologies or software development this is the base level of motivation. The lowest one. If your team is highly educated and well-paid, you will have to push forward.
We are going up to Self-esteem level.
From now on, there are no ways to influence groups of people at once. You will have to work with each person individually. However, I would like to notice, that only a fraction of people you work with actually be motivated by techniques on this level. These are your best and most ambitious colleagues.
OK. Have you promised to pass the PMP exam already? Or have you decided to learn and read more about project management? But you always put it on a later date…
Here is what!
If you want to develop self-esteem in your team members, you have to prove your own capabilities. You need to show them that you are productive, you know how to set and achieve goals. Otherwise, what can you teach them?
When and only when you prove your capabilities you need to develop these two crucial traits in a person you mentor:
Self-responsibility. They should feel responsible for their development, career, and future.
Living Purposefully. It means they need to find the inner "why." Why do they want to develop, why do they want to achieve something bigger.
Then, you need to teach them how to set goals and how to follow them. Believe me, they don't know how to do it. You need to help them.
Leading by example doesn't work. That is true until you build a solid foundation from all the previous levels. You may believe that just by doing right things people will follow you, that they will be inspired. But no, you have not yet earned their trust yet.
If you follow all the recommendations at this moment, you will have a big following already. People from your tribe will trust you. And the more following you have, the easier it becomes. Because your ideas start to spread with word of mouth.
But I want you to understand this. Leading by example inspires and motivates people on lower levels. On higher levels, it is a requirement. It has a little motivational effect on other leaders.
OK, Why did I ask you about manipulation at the beginning? Everything that follows is clear manipulation.
Why?
OK, imagine this. Here is David. He is irreplaceable, and you will fail a project without him. You come to him and say. "David, you are so experienced, and I believe you have so much potential. You know, I learned about one startup. They need a person like you. You will be doing meaningful work there. You will help real people with a product they do. I do think you should take this opportunity. I can help you with recommendations."
Hell no. You will never suggest something like that. You will say, David, you are irreplaceable, the company needs you. We have another super important project that only you can handle.
You know what I mean, don't you?
So, what can you actually do here?
Your goal is to develop leaders like you are. You need to teach them how to empower others. How to use their talents.
You need to create a vision of a great leader they should become. And you need to set higher goals.
But this goes far beyond the basics of motivation and leadership.
And if you are not a professional leadership coach, you won't have too many people to teach at this level.
Here is a final warning. It is appealing to believe that you work with lots of people higher levels. But it is not. More often than not, you are pushing up too soon. So, be conscious about the actual level you are at with each person.
I hope you liked this master class and if you want more tips on project management, please join me at PM Basics.
Thank you for your time and don't forget to share this video with your friends and colleagues.